HARD SELTZER HAS COME TO STAY
In the USA a real boom of a new flavoured, carbonated, alcoholic beverage is experienced and keeps its way upwards. Hard Seltzers have grown to make up for nearly half of all mixed drinks in the US. As it is with every trend, a lot of different information is going around. Do they only contain fermented alcohol or is distilled another possibility, too? Are they healthy? Low in calories? Let us take a closer look at it.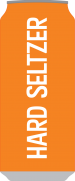 HARD FACTS
Hard seltzer, spiked seltzer, hard soda, actually there are various designations meanwhile, have in common that they all consist of sparkling water infused with little alcohol and natural flavour – mostly fruit flavour.
In fact what the contained alcohol is made of can differ – originally it was won by fermenting cane sugar or malted barley. Meanwhile you find hard seltzer products that use either neutral spirit, produced by destillation or others. Products with vodka, tequila, all different types exist.
LIGHT AND TANGY LIFESTYLE
The hightlight about it – and what they all have in common – is that hard seltzers are low in calories – 100 kcal per serving is standard. It therefore feels perfectly positioned in this particular period of time and is very attractive for lifestyle- and body aware customers.Furthermore it is also quite low in its alcohol content – most contain from 4 to 7% alcohol by volume, which is the same as light beer. There is an increasing number of people who rather ask for lightly alcoholic drinks or want to drink more mindfully, which is shown by upcoming movements as sober curiosity or mindful drinking.

CLEVER MARKETING
Within six years hard seltzers have experienced a dramatic rise in the USA – partly due to clever marketing. The clou was making this product also attractive for men. In former days fruity, lower-ABV beverages with fruit flavouring were often associated as "female" drinks. Now with targeted advertising addressing men, producers succeeded in changing this image and reached a much broader mass of consumers, including women too, of course.
WHO INVENTED IT?
In its early days the market was dominated by White Claw. Truly, meanwhile many big beer brands have decided to jump on the bandwagon. And we definitely expect to see more upcoming brands taking on the market. Coca Cola joined this trend and invented an own hard seltzer-brand, called Topo Chico. By and by you could find first hard seltzer products in the UK (AB InBev's Mike's Hard Seltzer, DRTY Hard Seltzer, Bodega Bay). The boom was forecast to cross into Europe. Other countries like Germany (www.holy-drinks.com), Switzerland (https://nylo.ch, www.bubblz.ch, www.sparklys.ch) followed. In Austrian first hard seltzers was: Hard Soda Flywa. Special features are as well the low-calorie content, containing no carbs and sugar and coming with comparably low alcohol content with 2,9% alcohol by volume.
WHAT DOES IT TASTE LIKE?
Of course it varies, some are sweeter, some are more flavourful, some fizzier. Concerning flavour, citrus fruits are particularly popular, above all lemon and lime. Further you will find berries, tropical fruits, fruits in combination with botanicals, blossoms & blooms, the trendy cucumber. We are curious about what is yet to come!

Thirsty for more? Get in touch – we feel happy to be here for you.