SUPPORTING THE IMMUNE SYSTEM IN STORMY TIMES
Bacteria, viruses, fungi, parasites – these are the uninvited guests that spread throughout our bodies and keep our immune system active. If they overcome certain barriers in our body, they become pathogens and a threat to our health.
Our immune cells form a protective shield, ensuring that uninvited guests are kept out and do not multiply – a great achievement! For this, a fit immune system is essential in every phase of life. Especially in current times the awareness to boost or support it keeps rising.
Food and beverages that support the immune system are increasingly in demand (source: Mintel):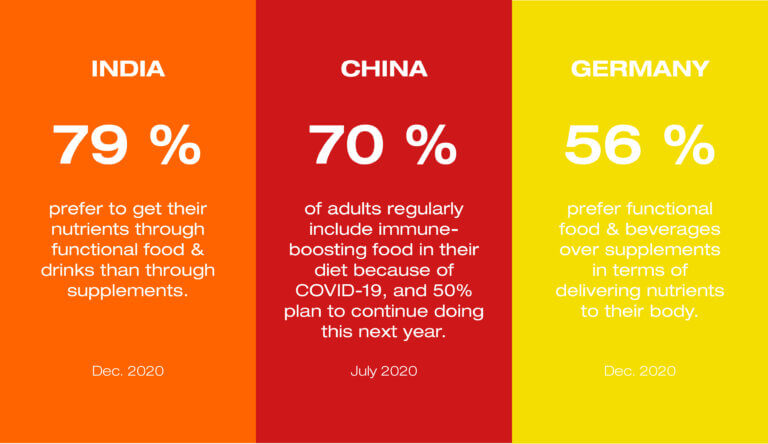 CONVENIENTLY HEALTHY
Today's consumers are demanding, health-conscious and well informed. The fact that a balanced diet has positive effects on our immune system is undisputed. But strict diet plans are hard to follow. They cause stress: Health-supporting and beneficial – yes, of course – but it has to be easy and convenient too. And don't forget a good taste as well!
So why not drinking the nutrients that can help boosting the immune system rather than follow that strict diet plan? Such functional foods and beverages are able to deliver nutrients that might be missing. Quite incidentally while enjoying.
NATURALLY HEALTHY
Products with vitamin C or vitamin D, for example, offer a supportive plus for the immune system. Superfruits – naturally rich in vitamins, antioxidants, anthocyanins and secondary plant substances – are on the immunologists' list: Goji, Aronia, Acai, Cranberry, but also domestic berry fruits such as blueberry, raspberry or black currant deserve the designation.
65% of sports and energy drink consumer in China check vitamin/mineral content when choosing a product.
MINTEL, Sept. 2020
Plant substances, so-called botanicals, are used because consumers associate them with naturalness and tradition.
E.g. Echinacea, the coneflower – a well-known representative for strengthening the immune system. Or ginger – the favourite and classic botanical activates the immune system, boosts the metabolism and is good for stomach and intestinal flora. In 2021, 4 % of the total beverage concentrate launches in Europe were products having ginger as main flavour component. (Mintel, Dec. 2021)

About 80% of our immune cells are located in the gut. Consequently, a healthy gut is important for a functioning immune system. This leads us to ingredients that you don't think of at first when you think about the immune system: Dietary fiber. It is an essential part of a healthful diet and reduces the risk of chronic health conditions.
Many consumers do not get enough fiber from their diet. They should tend to consume more of it – which can be done conveniently and in a tastily way: With fiber drinks, for example.
A traditional home remedy for intestinal health and strengthening resistance is apple cider vinegar – a great ingredient for modern Vinegar Drinks or Switchels, as the American says.

LET'S CREATE YOUR FUNCTIONAL DRINK
Trendy beverage concepts offering an additional value for consumers still show high potential in the future. So why not starting today? Let's create the perfect immune drink for your customers – we're happy to support your brand with flavours and a broad know-how in product development.