COLA DRINKS – SPEZI AND MORE
If you travel to a foreign country, not knowing what to expect in beverages and flavours, not speaking the country's language, what will you order? Probably a Coke or a Pepsi. Because you know what you will get: a COLA DRINK.
In 1886 John Stith Pemberton developed the cola recipe. This was the birth hour of one of the most iconic soft drinks ever. A success story around the globe. And inspiring. There are always creative people, eager to try out new things, creating something new by mixing known elements.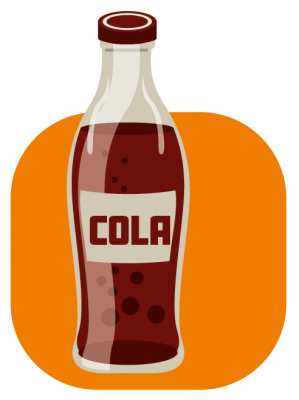 More than 60 years ago in Augsburg, Bavaria, Germany the brewery Riegele created one of the most popular cola mix drinks: SPEZI, a mix of cola and orange lemonade.
The brewery Riegele was one of the first German breweries who produced also non alcoholic beverages. Providing the inns with beer and refreshing lemonades, they observed that the innkeepers mixed cola and orange lemonade. For the innkeeper this was time-consuming, took up a lot of space for empty bottles, and there were often lemonade and coke leftovers, not tasty anymore. So the brewery came up with the idea of offering a ready-mixed drink. Original SPEZI Cola-Orange was born.
In 2018 the famous Austrian company Almdudler relaunched the it-drink of the kids of the 1970-ies and 1980-ies. In Austria SPEZI became a synonym for the cola-orange-mix.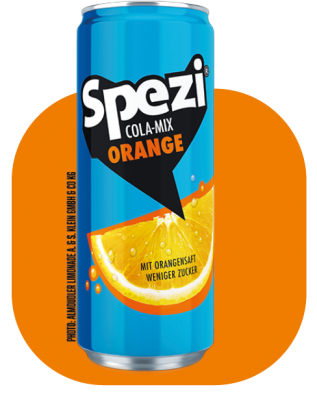 The big global cola brands also started to create their own cola-orange-mix: PepsiCo launched Schwip Schwap in 1969, Coca Cola followed with Mezzo Mix in 1973. Both are successful only in a handful of markets: Germany, Austria, Switzerland, the Netherlands and Finland. In Coca Cola's and PepsiCo's home market – the US – it could not score. For Americans, the mix of cola and orange lemonade is carbonated swamp water or diluted cough syrup.
The cola-orange-mix seems to be a German phenomenon. 
 A Pepsi spokesman says.

Cola mixed with other flavours are internationally anchored in the Coca Cola and PepsiCo product portfolio. Cola Lemon and Cola Vanilla are already classic tastes. Well known is Cola Coffee or Cola Cinnamon as a seasonal edition. We see Cola Cherry, Cola Raspberry, Cola Lime, Cola Blackberry, Cola Caramel, Cola Mango. Extraordinary are the flavoured cola drinks in Japan like Cola Peach or Cola Pineapple.
BE PART OF THE COLA MIX STORY
The big global companies set the trend – smaller, national and regional successful brands and private labels jump on the bandwagon.
Add your cola drink with a unique flavour profile to your portfolio. With a cola-flavour-combination consumers have already learned. Or surprise your cola fans with a new idea like Cola Grape. Let's talk and create your favourite together!
COLA DRINKS – 5 REASONS WHY – DOWNLOAD PDF