Pairing Lemon: A fruit worth exploring
It's time to talk about one of the most commonly recognizable citrus fruits in the world: Lemon. Its distinctive taste offers endless flavour pairings in beverages, sweet or savoury dishes. No matter how it's being used, its complex and layered flavour profile enhances every tasting experience. Find out more and get inspiration for creating your next lemon-flavoured classic.
Lemons are a beloved ingredient in many cuisines around the world. Their flavour profile includes attributes of sourness, bitterness, astringency, and sweetness. The yellow fruits are believed to have originated in northeastern India and have been cultivated for thousands of years. Today, they are grown in many parts of the world and are a staple ingredient in dishes and beverages.

Did you know that lemon is one of the top three fruit flavours in beverages (besides orange and apple)? In fact, it represents 9 % of all non-alcoholic beverages being annually launched in Europe. Globally seen, lemon flavoured products represent 7 % of all yearly launched non-alcoholic beverages (source: Mintel GNPD).

Lemon is an all time favourite.
So we dedicated this year to this complex yet incredible yellow fruit.
2023 is the esarom year of the lemon: https://bit.ly/3nrDHr

According to Mintel's FlavourAI lemon is THE predominant flavour, regarding RTD tea drinks in Europe. Its growth momentum status is high, saying that there's high market potential. Same applies to carbonated soft drinks in Europe – whereas lemon is, besides lime and tonic, a predominant flavour within its sector.

Describing the taste of a lemon
The lemon belongs to the citrus family. Its key profile descriptors therefore include buttery, citrus, floral, fruity, green herbal, sharp, spicy and sulfury.
SOUR
The lemon's tart, sour taste comes from the presence of citric acid (about 5 to 6 %), which is a primary component of lemon juice. This is what makes lemons such a versatile ingredient in the culinary world.


Used in moderation, the juice can "lift" dishes in unidentifiable ways, but when used in larger amounts, it imparts a distinct lemon flavour.

SWEETNESS
In addition to these flavours, lemons also have a subtle sweetness that balances out the sourness. This sweetness is due to the existence of natural sugars in the fruit, which are more pronounced in riper lemons.

Overall, the taste profile of lemons is a balance of sourness, bitterness, astringency, and sweetness. On top of that, its flavour profile is as diverse as the different types of lemons existing worldwide (around 140). Find below some popular and specific ones: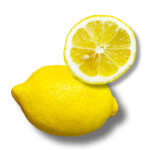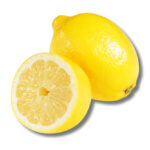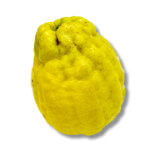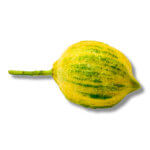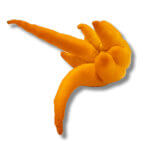 Trends have shown that consumers are looking for new taste experiences in the food and beverage sector. Due to lockdowns and travel restrictions they've started to search for new experiences which are attainable in such hard times. So people have become open minded for new flavour combinations, such as ice tea flavoured with tarte au citron aroma (Mintel GNPD).
So let's first talk about popular pairings with lemon: You've (probably) tried a lemon mint lemonade, a glass of cola or bitter tonic with a squeeze of lemon in it. Ginger in general is known for its spicy, woody and lemony characteristics which perfectly fit to lemon. Think of a classic gin tonic or St. Clement's.
Diving deeper into the lemon's molecular flavour profile we've found innovative flavour pairings that you probably have never tried before.
Thinking of freshly squeezed lemon juice which is mainly a mixture of citral and geranial. The lemony fragrance of these compounds suggests a successful flavour pairing with mace and/or celeriac.

Going a step further we suggest combining lemon with the taste of dark roasted almond, chicory, or sumac.
Why might you ask? Because these ingredients share key citrus aroma molecules (= taste of lemon, lime, grapefruit, and orange) with the yellow fruit.
Torta de Almendras de Santiago– a Spanish cake created with grounded almond and lemons proves the deliciousness of this food pairing. So why not create a limo with these flavours?

"Potential pairing: Turkish coffee, physalis and tart lemon."
A number of popular cocktails call for lemons, such as gin fizz, amaretto, or tequila sour. And not to forget, Italy's famous limoncello liqueur (grappa or vodka, lemon peel and sugar syrup).
PRO tip: Lemon combined with hop.
Exploring new flavour combinations with lemon and alcoholic beverages we cannot avoid suggesting pairing it with crème des bananes (banana flavoured liqueur) creating a new cocktail (overlap with citrus, floral and green aroma molecules). You also may try a lemon combo with Arrack, Lambic beer, rum or Cachaça.

Lemon zest contains more gamma-terpinene and alpha-pinene (= herbal and a bit more woody, spicy scent) than the citral and geranial found in lemon juice.
Create your next appealing product when pairing lemon zest with:
Lemon flavour combinations are limitless. The ideas mentioned above are just a small hint how to create new innovative food or beverage pairings and do not claim to be complete. Nevertheless, it is important to check the particular aroma type (herbal, spicy, fruity, etc.) of a fruit/raw material, explore its aroma molecule and find an overlap with other foods. That's how we work.
Based on our know-how, experience, and passion for taste, we've perfected capturing the right flavour compounds and create high-quality products. We dispose over a profound portfolio of complex lemony flavour compounds that will raise your product to the next level: Whether preferring classic lemon tonalities (organic or not), bitter, limoncello, tarte au citron or another flavour, we'll find the perfect solution for your individual needs.
Our offer includes new and innovative flavour compositions, product development and the most important one – flexibility for our customers.
Are you searching for support with a new product concept, or do you already have an established range of products? Whichever challenge you're facing – you have our support.